Wing Raptor is always no problem with Broad Sword hits.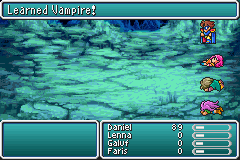 The major obstacle to this whole challenge is Karlabos, but we worked out the strategy together in the Realms Beyond thread. The Blue spell Vampire, coupled with a Monk's high HP total, is the way to one-hit Karlabos with the least leveling. I'm totally taking advantage of the bug/feature/whatever in the GBA version that Vampire deals damage equal to Max-Current HP rather than half of that. All I need is a character with over 650 max HP and Vampire. I had calculated that this could be done with a monk at level 17, although decided to go a bit higher for some buffer room. I powerleveled Daniel in the Torna Canal, the best place early since those monsters don't attack male characters (it's a plot clue that Faris is a girl.) It took about 90 minutes of game time, 45 minutes of real time, to reach level 19 and 743 HP.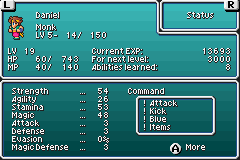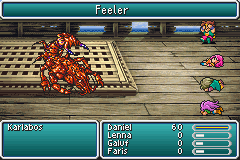 Daniel entered the battle at 60 HP, providing buffer room for one Feeler/Tentacle attack from Karlabos... which he needed. Yikes, if Karlabos rolls Feeler again I could be sunk.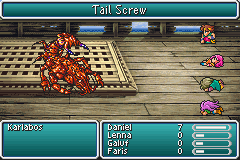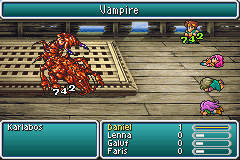 He pulled out Tail Screw... perfect! Daniel whacked Karlabos for a 742-HP drain from Vampire. Splattered by a one-hit kill!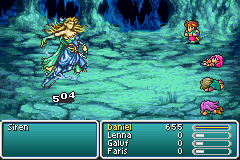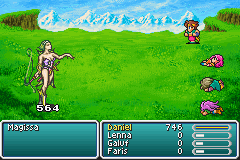 Siren went down fast to an overleveled monk. Magisa received Solo's treatment, killed by a single Focus/BuildUp attack without ever summoning Forza.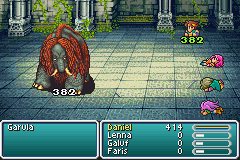 Outside Castle Walse, I trained Daniel as a Thief to learn !Flee, which he used to retrieve the Elf Cape from the basement. Garula went down in a hurry to Monkly counterattacks, Daniel using Vampire on his turns to stay healthy.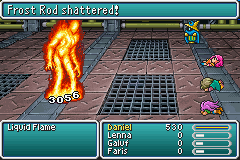 LiquidFlame ate one Frost Rod in the guise of a Black Mage for another one-hit kill. For the castle escape, Daniel remained a Monk for quick group kills with barehanded attacks and Kick, with !Flee equipped too. (No I wasn't going to mess around trying to learn Death Claw from the dangerous boss.) He looted all the chests with a minute-plus to spare. I belatedly realized that this fleeing sabotaged the prospects of Brave Blade use later, but Daniel had no business being foolhardily brave.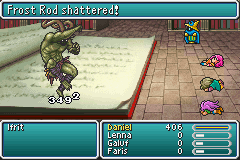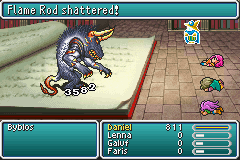 The Library bosses also went down the easy way to rod breaks. No apologies here for taking the power tactics. Byblos scared me even after that -- 3582 damage is 18 short of the kill! -- with a Confuse and a couple hits, but Daniel eventually got another turn to launch a Fire 2 for the win. For the Sandworm, I picked up Aqua Rake and used that usual one-hit kill, not worth a picture.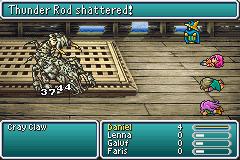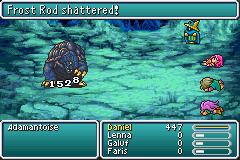 Crayclaw was next, a fight that worried me a bit; there's no defense against the Mucus / Tail Screw combo. But since Crayclaw doesn't do anything to take control away from the player, no confuse or paralyzation or anything, I was pretty sure Daniel would get the turn for the one-hit Thunder Rod kill. He did. Adamantoise I slightly goofed, having only one Frost Rod in stock which wasn't quite enough. Had to burn an Elixir for healing to get enough time to cast two Ice 2s for the win. At least I'd alertly put HP +20% on Daniel when he changed to the Black Mage.
To enter Ronka, I had to think about the fights. Usually I just bullrush into the Flameguns and Rocket Launchers, figuring out by trial and error whatever this particular character can do about them, and reroll fights into one or the other if necessary. Not Daniel, who needed a rock solid plan for both. Flameguns were easy, just buy a Flame Ring, with Daniel already having most of the gold from the pre-Karlabos grinding.
Rocket Launchers took some thought. They inflict Confuse status, and there is no item this early to protect against it. To avoid dying, the trick is to equip your character with a weak weapon unable to punch through his own armor. But the problem is that said weak weapon also can't overcome the 20 defense of the Rocket Launchers. Arylon the Dancer found a smart solution that Sword Dance would double the weapon's attack value and beat their defense... which can never work in an uncheated game because the Dancer job isn't available yet! So what you have to do is equip a weak weapon and then use an ability that 1) can kill the Launchers, but 2) won't get used against yourself while confused such as Black magic will.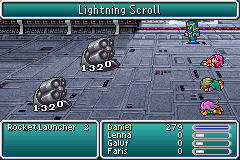 Throwing Lightning Scrolls as a Ninja will do.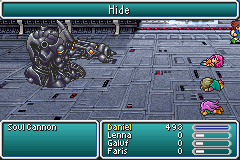 Sol Cannon got a specific setup. Daniel went in as a Bare/Freelancer to equip a Ribbon for defense against aging. I trained him as a Bard until he learned Hide, allowing perfect evasion of Surge Beam. For offense I put the Monk's Barehanded ability in the second slot. (Hadn't learned a more specific offensive skill like Throw or Black level 3 or GilToss, but didn't need to.) I screwed up the timing once and needed an Elixir to recover from Surge Beam, but otherwise this was easily handled.
In Ronka, I expected Daniel to do a lot of running as usual, but still as a Monk he held his own pretty well in the fights. The Ronka encounters aren't really dangerous as far as death threats; they just hit for a lot of damage. But this slightly overleveled Monk (30) packed enough HP to survive all that, backed up with Blue magic in the second slot for Vampire for easy healing. I also picked up White Wind, by putting Learning in the second ability slot as a Red Mage to cast Confuse on an Enchanted Fan. (No need to grind 60 Beastmaster ABP for Control.)
Up next was ArchaeoAevis, always a minor roadblock for solo characters. There's not much you can do against the paralyzing ability of the fourth form or the confusing and Maelstrom moves of the fifth. Almost everybody needs to retry a few times here. And the biggest guns in GilToss and Mix still aren't available until after this fight.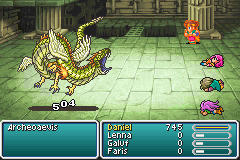 Well, I felt that a Monk was still the best approach. He gets the most health, the counterattacks, and plenty of damage. ArchaeoAevis's physical defense is high for the first couple forms, but those aren't the dangerous ones. And the best way to enhance the Monk's strength was to train up Time magic level 2, to add Haste and Slow for the well known 4-to-1 speed advantage. This worked; the last form got only one turn and cast a harmless Breath Wing. The Time Monk nailed Titan and Manticore easily too.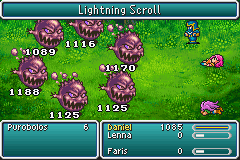 For the Purobolos, I went as a Ninja with Time Magic. This has the bonus synergy that equipping the Time Magic ability boosts the Ninja's Magic Power stat and thus the damage done by thrown scrolls. Two Lightning Scrolls killed all of them at the same time with zero fuss. Cheaper than GilToss and strong enough (120) to reliably kill in two rounds unlike the weaker Black damage spells, although then I realized that summoning Titan (110) also would have won in two.
Before leaving the first world, I did decide to go raise the cash for an Angel Ring, just in case. This went amazingly fast by fighting on the first island north of Crescent, which always serves up five Black Flame monsters that die instantly to a thrown Water Scroll or many other methods. This also took Daniel up several levels to 41, which I didn't mind either, I did say that powerleveling is on the table and I'm not going crazy to something like 70 or 99. And Ninja ABP is handy, adding Throw to the ability ledger now and a job mastery is certainly in line for later for Dual Wielding.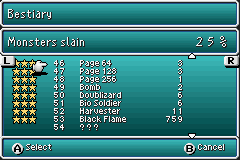 (Okay, I might have gone a bit overboard there on killing Black Flames.)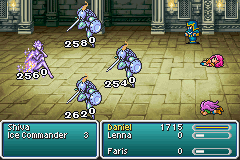 And I pasted Shiva with a Flame Scroll just for completeness and entertainment value. So far so good.
---
In the second world, Galuf whacked Gilgamesh in the basement with the usual single shot of GilToss.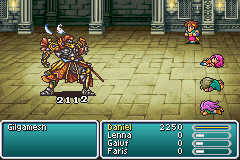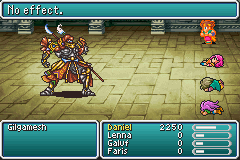 For Gilgamesh on the Bridge, Daniel went in with his usual Time Monk combination. Haste and Slow gave a tremendous speed advantage, with the somewhat overleveled Monk dealing over 2000 damage on a crit there. And the gravy on the cake was the Time Magic spell Mute/Void, which locks out all magic for both sides and works in this battle! Gilgamesh's Haste/Armor/Slow combo was blocked and Daniel won in a walkover.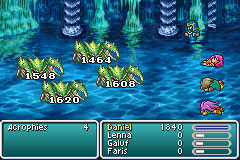 The Moogle river was a great time to be a Ninja and throw scrolls into the elemental weaknesses of everything there. (Scrolls at 120 spell attack are way stronger than the black spells or early summons at 50, and don't get halved by multiple targets.) Tyrannosaurus fell to the usual Phoenix Down.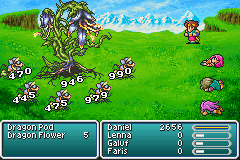 Drakenvale also went uneventfully, running a couple times from the dangerous encounter with two Bone Dragons, but handling everything else. Daniel Kicked his way through the boss fight for the usual flawless victory for anyone who can take out the small flowers together.
Gilgamesh on the ship took some thinking. There's only one defense in the entire game against his deadly Death Claw move, the Chemist mix Dragon Kiss... which Daniel could certainly use! And the Mix ability itself also provides the offense via Drain Kiss. So my choice of setup was to go in as a Time Mage with Mix equipped. That would give access to the usual Haste/Slow combo, plus a high Magic Power stat to fuel Drain Kiss, and finally the Reset spell just in case something went wildly wrong.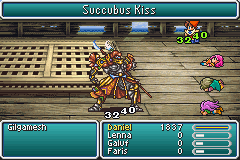 I buffed up with Dragon Kiss/Haste/Slow, then waited until right after Gilgamesh got a turn... and blew him away with three consecutive Drain Kiss attacks WITHOUT HIM GETTING ANY TURN TO SUMMON ENKIDU!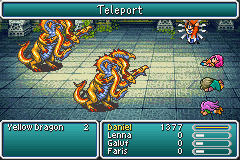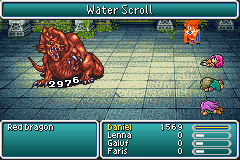 In the Barrier Tower, Daniel made sure to kill a Red Dragon for vengeance for the original Ironcores.

He's wearing a Flame Ring for immunity to Atomic Ray and throwing Water Scrolls into the dragon's weakness. Although he did have to Teleport away from the alarming two-Yellow Dragon encounter twice to reroll it into the red dragon.
And for Atmos, the plan was easy. Just Sleep him and cast black magic to your heart's content. I went in as a Monk for the highest HP to survive Comets if necessary, with black magic level 3 equipped.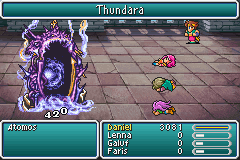 Minor miscalculation... heh, the monk's terrible Magic Power stat leaves Bolt 2 doing quite low damage there. But Daniel was in no danger and it just took ten minutes and one Elixir to refill magic.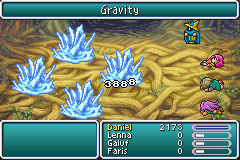 Daniel continued through the Forest of Moore as usual, building up some ABP as a Black Mage using the newfound Fire 3 spell from Moore. He took out the Crystals with standard Black Mage fare aided by a nice helping of Time Magic: use Demi/Gravity to bring the fire crystal to the critical range while wearing a Flame Ring, take out the other crystals with fire spells while collecting free healing, then finish off the fire crystal with non-elemental Comet.

Exdeath's Castle is the first seriously dangerous place in the game, so let's break onto a new page here as the variant really begins.

Index | Next