Epic Twenty-seven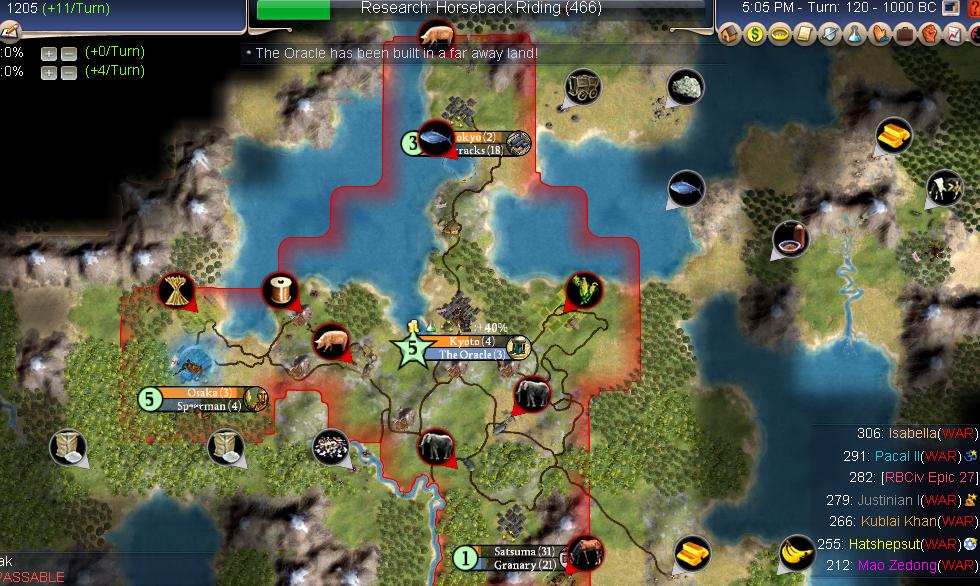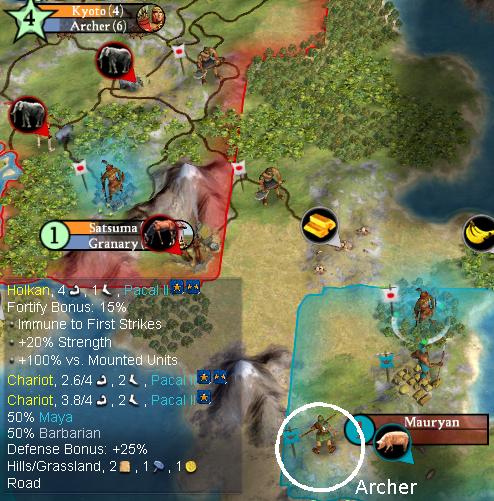 The next episode involved a barbarian city that Pacal captured. I am not sure HOW he did it - there were three archers defending on a hill, and he appeared to use just one chariot and one holkan. But anyway, it was pretty vulnerable on defense, so I whipped a pair of axemen to send down there. I correctly figured that the city couldn't build or whip an archer in time at size 1. But the AI alertly (!) sent an archer from another city to defend it!
However, my axemen moved to the hill after the archer vacated, and intercepted a second Mayan archer and holkan in the open on their way to defend the city. Now I had three axemen ready to attack against just one defending archer. The RNG swung against me but not terribly so, with two axemen dying, but the third won, then the spearman killed the defending chariots (on two turns with a promo-heal between).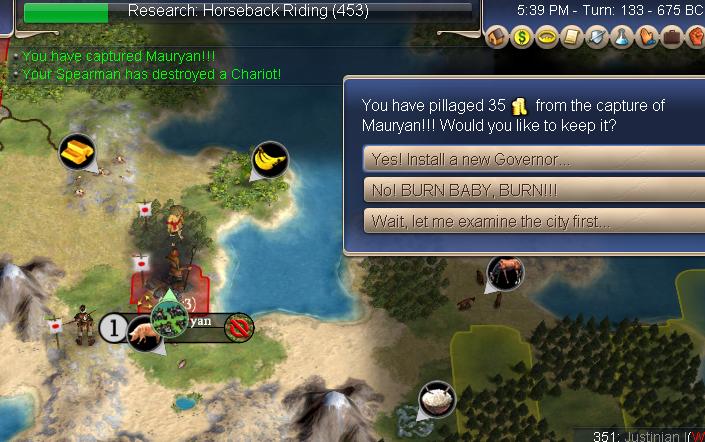 And the city was mine.
That also popped my first Great General, who settled in Kyoto. Don't need a medic yet and Kyoto is obviously the future Heroic Epic city.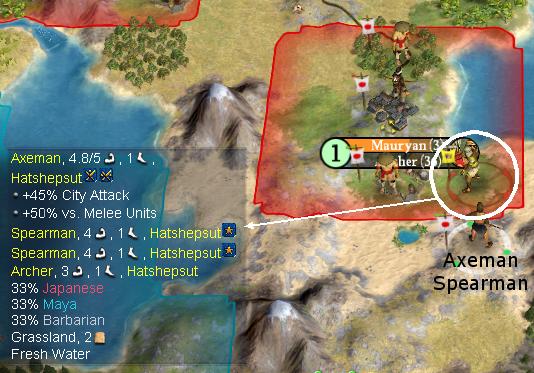 Uh oh. My one archer in the city won't hold against that. But the key to this battle is my axeman on the hill. He has Combat and Shock, Hatty's axe doesn't. Mine won (at a somewhat risky 78%). And I moved the spearman onto the pigs, so it could enter the city next turn if it survived, or else leave the enemy exposed to counterattack. That turned out to be the right move - Hatty's spear attacked mine, and even though Hatty won the coinflip battle, the other two units suicided against my archer and next turn my axe cleaned up the exposed spear.
410 BC, Monarchy came in. Yeah, gotta go Hed Rule.
And Tokyo's monument finally expanded bringing iron in my border.
---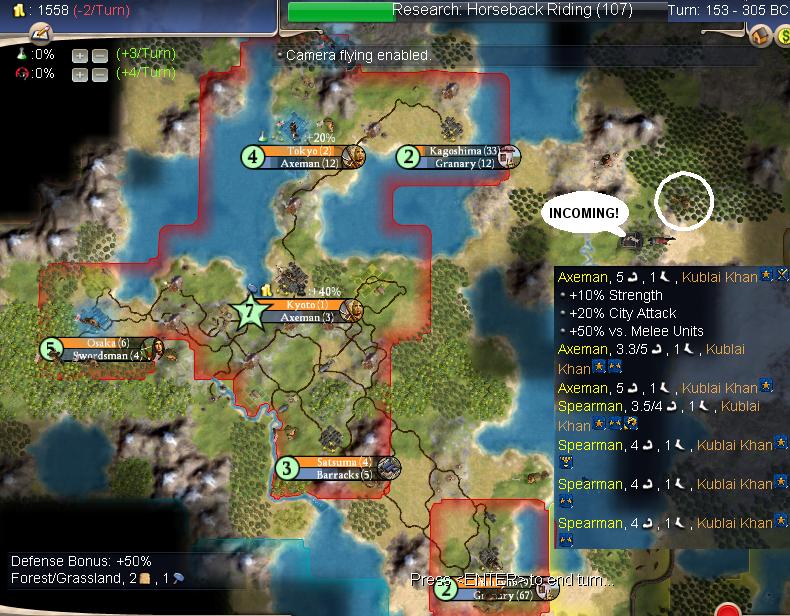 Incoming! There's the first serious AI attack stack. Decently promoted too from aggressive Kublai. Well, there really is no hammer-efficient way to kill that before Construction. All I can do is meet it axe-for-axe, although at least those axes can be 5-XP 3-promo from Kyoto.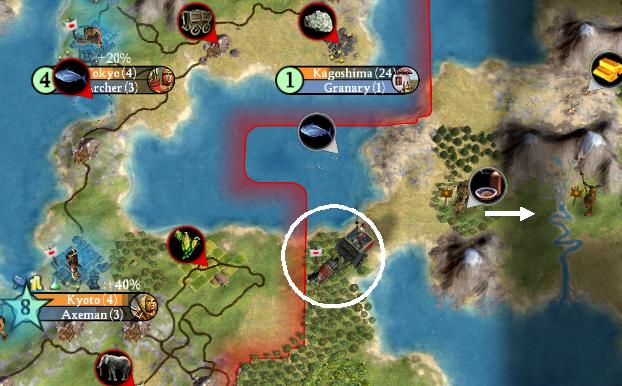 Then I accidentally discovered a big hole in the AI pathfinding. If I put a unit where that chariot is, Kublai's units turned around and went the other way! The AI sees the chariot's tile as blocked; even Aggressive AI is not smart enough to consider killing an enemy unit in its pathfinding. I will leave that in the map design - if somebody finds that trick and needs it, they can use it. For now though, I decided to stop manipulating the AI and take Kublai's stack head on. I eventually killed it losing only two axes.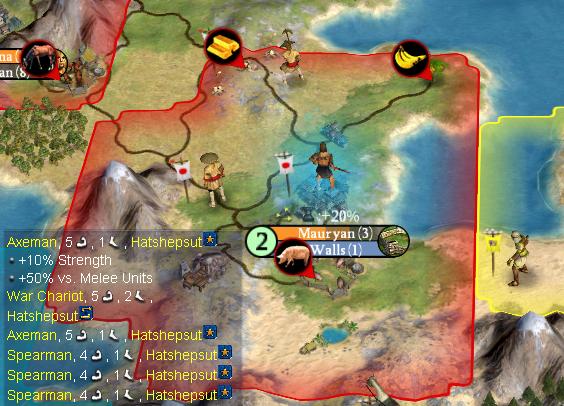 More bogeys at five o'clock! Two archers and an axe in my city, and the best way to bolster the defense was to whip walls... and the city held with no losses! Those Aggressive AIs sure spam units, but then tend to get a wee bit suicidal with them.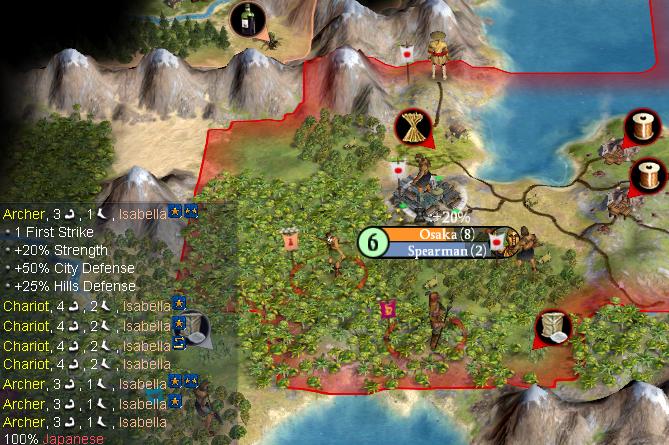 And the first attack stack from Isabella. I think she might have had trouble connecting metal. Just a hunch. :)
My spearman heroically held against all four chariot attacks! Then the archers comically suicided into the two axes Osaka also had on defense. Zero losses for Japan in an 8-0 shutout of Spain.
---
Up to here was one day's worth of playtesting, the day before the event opened. I am 99.3% satisfied with the game up to this point. It's delivering exactly the nonstop action that we wanted. The map is behaving as intended as well, with choke points and funnels to give the player tactical control, and lots of hills for production. The Internet works great. And those Aggressive AIs really spam out units and go for blood.
Just a very slight hair too much, in fact. I'm doing well, but it's taken all my concentration plus a worker steal, and I want the game to be tough but winnable, not deadly extreme. It needs a very slight downward nudge to the difficulty, so I deleted one archer from each AI in 4000 BC. Without early AI exploring archers, that should remove the risk of an accidental choke or big setback to a bad RNG combat roll. Yes, that will make it easier to choke the AIs in return, but if you do, more power to you.